The Primo RV Centre Advantage
We've got over 25 years of customer satisfaction. See what they have to say
Find an RV that fits your lifestyle
Whether you're a young family just discovering #RVLife or established empty-nesters ready for the next adventure, Primo Trailers is here to help you hit the road and get exploring.
Serving the Ottawa area for over 25 years
Locally owned, we pride ourselves on over 25 years of customer satisfaction. The Primo family is built on the following principles:
We only represent manufacturers with strict a manufacturing process, backed by solid warranties & Certified Green building practices.
Sales representatives trained to find you the right RV for your needs and budget.
Member in good standing with ORVDA and RVDA of Canada
A+ Rated BBB dealer
Fair market pricing with all fees and cost up front at the time of purchase and not hidden in financing.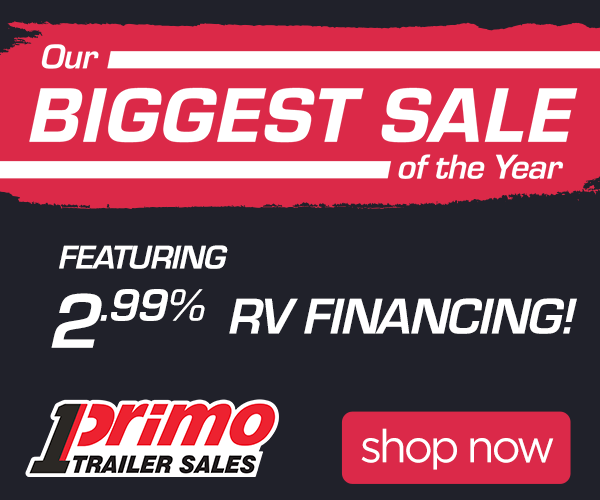 Make memories that will last a lifetime
Our mission at Primo RV Centre is to maximize our customer's (new & experienced RVers alike) enjoyment of their leisure time through the RV Lifestyle. Whether that lifestyle involves travelling more often, the thrill of seeking new adventures, cost effective holidays, parking an RV permanently at that perfect spot on the lake, increasing quality family time, or just to get away from it all, we provide a guaranteed, hassle-free shopping experience through a combination of world class personal service & industry leading innovative products, even if your budget and/or experience level is limited.
We understand that purchasing an RV represents a significant investment in you and your family's quality leisure time and that RV shopping can be a confusing process. Manufacturers, makes, brands, models, floorplans, price points, construction techniques, dealerships, and financing options, are just some of the factors in the decision process, and the combinations can be daunting. We are committed to continuous training and keeping our skills and knowledge current and relevant, so we can pass along that knowledge to you, guiding you to the right decision on your journey. We know how to listen and ask the right questions to best match your needs to your ideal RV.
We also provide a comprehensive range of value-added services in terms of new sales, used sales, financing, parts, accessories, service, storage and re-sale in order to enhance your ownership experience from point of sale to the last day of ownership.
If you are currently in the market for your first RV (old or new), looking to trade up or down, or looking to enhance your current RV experience with accessories, upgrades, or services we invite you to visit our dealership and chat with our professionals. Tell us your story and let us help you make the right choice for your needs and budget.
Your next chapter starts with us.